Bahrain jailed 46 Shiite protesters after clashes amid an election boycott on Saturday, sentencing 32 of them to 15 years in jail over violent anti-government protests. The head of a teachers union was also sentenced to 10 years in prison for calling for the overthrow of the monarchy.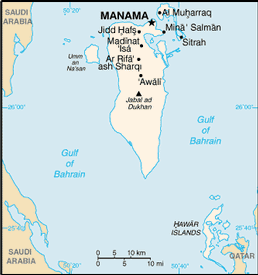 Only 17 percent of eligible voters visited the ballot box in Bahrain's by-elections held on Saturday. The low turnout was the result of a boycott led by the majority Shiite population that has been protesting against the minority Sunni-led monarch.
The elections were held to fill 18 seats in the 40-seat parliament that the Shiite opposition party al-Wefaq vacated in protest due to the government crackdown in recent months. Some now are calling for new elections.
The government argued that the low turnout was primarily because of intimidation of voters and candidates by the opposition. Opposition groups instead claimed that security forces cracked down on some Shia villages, beating protesters and using teargas, shotguns, stun grenades, and rubber bullets to prevent successful demonstrations at the Pearl roundabout.
Opposition groups also claimed that the elections, absent a boycott, would have been a sham. In the weeks leading up to voting day, the monarch prevented Bahraini civil rights groups from monitoring the election.
Serious abuse within Bahrain's prisons has been alleged by many in the opposition, and the New York Times reported on claims that detainees had been forced to eat their own feces, among other mistreatment.
In his speech to the United Nations, President Obama reaffirmed that the US is a "close friend of Bahrain" and that he has hope for the so-called National Dialogue, decried as a farce by the majority of Bahrainis. Eight days before the by-elections, the Obama administration demonstrated their firm partnership with the Bahraini dictatorship by selling them $53 million in arms, including equipment that could be used against protesters.