Turkey is suspending military ties and defense industry contracts with Israel after their refusal to apologize for the deaths of Turkish activists on board the Gaza aid flotilla last summer. Turkish prime minister, Recep Tayyip Erdogan, has threatened further sanctions if Israel continues to refuse recognition of wrongdoing.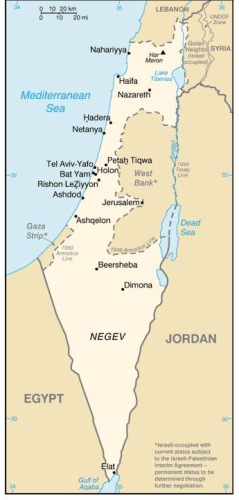 The announcement comes after Turkey last week expelled Israel's ambassador and pledged an increased naval presence in the eastern Mediterranean following the release of the United Nations Palmer report, which characterized Israel's response to the flotilla as "excessive and unreasonable."
"Trade ties, military ties, defence industry ties, we are completely suspending them," Erdogan said, although his office later said he was referring to military and defense trade, not overall trade between the two countries, the costs of which the governor of Israel's central bank warned would be far-reaching for the Jewish state.
Erdogan also promised to help lobby for the Palestinian bid for statehood at the UN this month and said Turkey would escort future aid ships to Gaza.
Erdogan plans to visit Cairo next week and, from there, to make a decision about visiting Gaza. Alon Liel, a former senior Israeli diplomat, said "Israel and the US will do everything possible to stop a visit. [Erdogan] will be received there as a god." Liel voiced concerns that Erdogan could attempt to persuade Egypt to downgrade its relations with Israel during his visit.