Negev Bedouin Palestinians are turning to the United Nations to help prevent Israel from approving the forcible eviction, home demolition, and relocation of between 20,000 and 30,000 residents of territory unrecognized by Israel as Palestinian.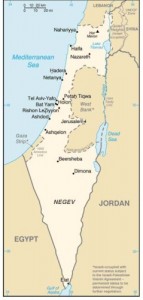 On the instructions of Israeli Prime Minister Benjamin Netanyahu, National Security Advisor Yaakov Amidror recently introduced changes to existing plans to remove these Palestinians from their communities, which have been publicly opposed by the Bedouin and by rights activists.
These are the same groups that Israel recently sued for over $500,000, the claimed costs of demolishing their village each time the Bedouin rebuilt it. Israeli authorities had destroyed, and the Bedouin had rebuilt, the homes in al-Araqib more than 20 times.
Awad Abu Farih, a leading activist representing the Bedouin villages,  announced a demonstration planned for September 18 near the Prime Minister's Office in Jerusalem. Part of the plan is to ask UN institutions to recognize the rights of the Bedouin as an indigenous people, using a recent report by the UN's Special Rapporteur on the rights of indigenous peoples, Prof. James Anaya, which criticized the Israeli government's refusal to recognize the Bedouin land.