Defections within the Syrian army are increasing, as more and more soldiers refuse to fire on civilian protesters. A statement published on the internet by the Free Officers, a group that says it represents defectors, said "large defections" occurred in the Damascus suburb of Hasrata.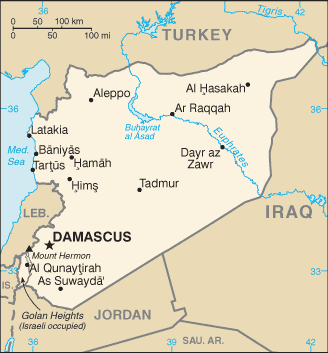 On Sunday, gun battles between defected troops and supporters of Syrian President Bashar al-Assad backed by security forces near Harasta went into the night. The clashes reportedly started after four to five soldiers joined the anti-Assad protests.
Dozens of soldiers, led by Col. Abdul Sattar Youssef, posted a video declaring their defection on the internet. "We tell the army units taking part in raiding cities and militias," Col. Youssef announced, "they are not our target, because they are the sons of this nation and we are supposed to protect it. We await from them the kind of action that will be recorded by history and the people."
In what could be a sign of a looming split within the military and possible outbreak of civil war, Col. Youssef declared defectors would now target those still with Assad. "We are after the criminal gangs of thugs and security forces who kill innocent people."
There have reportedly been desertions in the eastern Deir ez-Zor province, the northwestern Idlib province, the Homs countryside, and at the outskirts of Damascus.
The bulk of the Syrian army are still following Assad's rule, though, and have continued the violent crackdown. On Monday, at least 40 light tanks and armoured vehicles and 20 buses of troops and military intelligence deployed at the highway entrance of Rastan, 20km north of Homs, and began firing heavy machine guns at the town.
Tight sanctions and international isolation are growing, as Syria loses even its closest allies. But the fall of Libyan leader Muammar Gadhafi has led some to be more optimistic about a NATO intervention in Syria.