A month ago the Obama administration was suggesting Iran was behind an increase in attacks against U.S. troops. Giving very little evidence other than the assurance that Iran was backing militiamen in Iraq, U.S. officials seemed otherwise unable to explain why Iraq was suddenly becoming unstable again. A sudden upswing of U.S. fatalities did seem to point to something. Or did it?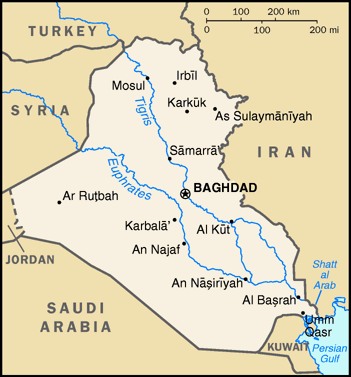 Only a month later U.S. officials have now declared a dizzyingly quick success in a campaign to bring those figures back down. While an increase of 750 percent in one month seems like a lot — it comes out to 13 more deaths than May — several of the June attacks involved multiple deaths. Early in the month, five soldiers were killed in a single mortar attack. Was this better weaponry coupled with more attacks, or just plain luck on the part of insurgents? May had only two fatalities for the whole month, but April had clocked in at 11 deaths, while March registered only two. So was June even a significant statistical anomaly, let alone the result of intensified Iranian meddling? 
It's hard to know for sure — the "evidence" of Tehran's involvement was pretty flimsy to begin with, but just as quickly as the perennial Iranian problem resurfaced, it was mysteriously re-corked. Admiral Mike Mullen, while on an unannounced visit to Iraq today, declared that the United States had beaten this mini-surge in violence through diplomacy with Iran and military operations in Iraq. Unfortunately, all the new declarations were as vague as ever, so it is unclear why exactly the casualty figures fell. It is true, though, that U.S. casualties dropped to only five deaths. Still, three months in 2011 saw even smaller numbers. And Iraqi casualties in July remained high even as the American toll fell dramatically.
More troubling than the usual fuzzy accusations is the fact that the United States is still participating in military operations in Iraq despite the withdrawal of U.S. combat troops almost a year ago. Over the weekend, one such operation went awry in Rufayat, a small town near Balad.
The American public has grown all too accustomed to collateral damage in Iraq, but one detail of this failed raid is particularly chilling. A son of a Sunni tribal elder Sheikh Hameed Hassan reported seeing his father handcuffed and led away from the house only to be found dead later, still handcuffed. 
It is unclear whether American or Iraqi troops took the sexagenarian sheikh, but the raid echoed a controversial incident in Jubail last September, just as Operation New Dawn — the "advise and assist" operation — was in its infancy. There, U.S. troops arrived in helicopters to assist Iraqi soldiers. A suspect was sought, but civilians were killed and handcuffed at the whim of Iraqi forces — and quickly forgotten.  
Separately today, another U.S.-involved raid drew the ire of one legislator who called on Iraq's government to end operations and detentions involving U.S. troops. While the claim of beaten women and stolen money in Nukheilat seems on its face a bit exaggerated, it might not be. Last week, U.S. troops conducted raids in another southern town. Could events such as these be the true seed of anti-American attacks and not Iran?
Meanwhile, the question of whether U.S. troops will stay in Iraq remains unanswered. Iraq Prime Minister Nouri al-Maliki promises that lawmakers will make that decision soon, but he has also hinted previously that U.S. military "trainers" can stick around without parliamentary approval. The U.S. State Department will also have its own contractor army, so more American deaths and botched raids are likely in the future, regardless of who is nominally running the show.