President Trump has sought to downplay doubts about the denuclearization process with North Korea. On Monday, he said he remains confident that North Korea's Kim Jong-un will honor his commitment to denuclearize the Korean Peninsula.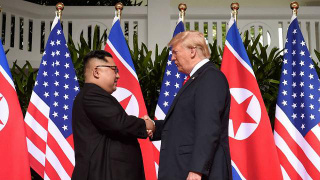 Questions about the process began growing over the weekend, when Secretary of State Mike Pompeo's visit to North Korea ended. It was followed by North Korea's Foreign Ministry issuing a statement criticizing Pompeo for "gangster-like" demands.
This raised a lot of quick speculation that this marked the beginning of the end for the peace process. Yet administration officials see it as a bump in the road. They point to North Korea's criticism being carefully worded as evidence they aren't just walking away from the table.
Analysts are viewing it the same, noting that the long, severely-worded statement was very careful not to take any direct shots at President Trump. This raised speculation that North Korea is hoping to get back into direct talks with Trump, rather than Pompeo, as a negotiating strategy.