The Yemeni capital city of Sanaa wasn't exactly a safe or healthy place to be in the first place, with months of Saudi blockades putting food and medicine in short supply, or outright unavailable, and a cholera epidemic rampaging. Still, things can always get worse.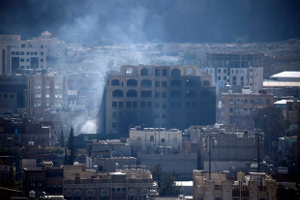 And things are getting worse, with the weekend's heavy fighting between the Shi'ite Houthi movement and the General People's Congress (GPC), the two opposition groups in Sanaa, who are suddenly and violently at odds adding fierce fighting to an already disastrous situation.
That's made aid shipments into Sanaa even more difficult, and the provision of basic services, which were barely functioning in the first place, virtually ground to a complete halt. To make matters even worse, many are trapped in their homes by the fighting, and can't go elsewhere to seek supplies.
The infighting between the Houthis and the GPC shows no sign of slowing so far, though with the Houthis having killed former President Saleh, the GPC leader, along with his deputy earlier on Monday, the group may struggle to sustain resistance to the Houthi movement, even with Saudi air support.
Last 5 posts by Jason Ditz