Presidents have long sought to avoid the question of Israel's capital city, putting off any change in recognition for decades. Officials say they believe that's going to change with President Trump, however, and that next week he will recognize Jerusalem as Israel's capital city.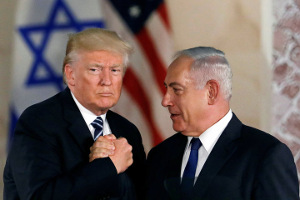 Israel has claimed Jerusalem as its capital city since 1980, though this includes substantially parts of Jerusalem occupied militarily during the 1967 war, and internationally, almost no one recognizes this. As far as most of the world is concerned, Tel Aviv has remained the capital.
Trump's decisions to recognize Jerusalem is a big issue because of its implications on the Israeli occupation of Palestine. It is likely to be a half-measure, however, as officials say Trump will not relocate the US Embassy in Israel from Tel Aviv to Jerusalem.
Palestinian officials have warned the US against any potential changes to Jerusalem's status, saying it's not just a Palestinian issue, but one for all Arabs, Muslims, and Christians, and that they've warned the US repeatedly that it's a "red line" issue.