During her scheduled Wednesday visit to Saudi Arabia, British Prime Minister Theresa May says she intends to challenge the kingdom on a number of human rights abuses, and in particular will demand an end to the Saudi-led blockade of Yemen.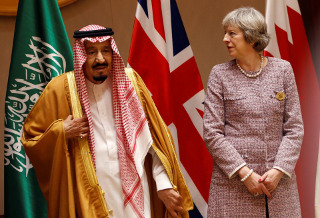 Though international aid organizations have been deeply critical of the blockade, this will be the first time a top foreign leader has demanded the Saudis stop the blockade, which has been in place for two and a half years, and is killing growing numbers of Yemeni civilians.
Britain has been selling growing amounts of arms to the Saudis throughout the war, which has raised concerns among some officials that Britain is effectively complicit in the war crimes going on in Yemen.
A similar concern exists with US support for the Saudi war, as the US has sold the Saudis even more arms, and has participated directly in the conflict and blockade. This concern has been expressed by some in Congress but so far the US leadership appears unmoved to limit their involvement in Saudi actions.
Last 5 posts by Jason Ditz