Following Lebanon's independence day celebrations, Prime Minister Saad Hariri met with President Michael Aoun and has announced he is "suspending" his previous resignation pending further talks.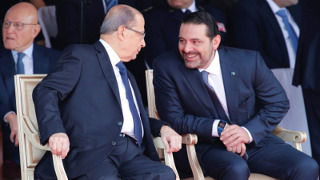 Though Hariri reiterated his denial of reports that he was forced to resign during his visit to Saudi Arabia, the fact that he has now suspending the resignation and is suggesting an openness to staying in power outright will doubtless add to speculation that his statements in Saudi Arabia weren't exactly voluntary.
There's a lot of concern about a Saudi-led blockade, in the style of the one against Qatar, targeting the nation, and Saudi Arabia is known to prefer Hariri's brother in power, who is seen as more willing to tow the Saudi line.
The Saudis are positioning Lebanon as part of Iran's regional bloc, because Hezbollah is a powerful political party there. Lebanon's government is structured in such a way as to ensure any government includes Shi'ites, Sunnis, and Christians in prominent positions, and the fact that Hezbollah is sch a large Shi'ite party virtually assures they'll be the member of most viable coalitions.
Last 5 posts by Jason Ditz