Growing complaints about the humanitarian catastrophe in Saudi-blockaded Yemen have led the Saudi government to announce that the al-Wadea border crossing is being reopened. Last week the Saudis closed all ports, airports, and land crossings.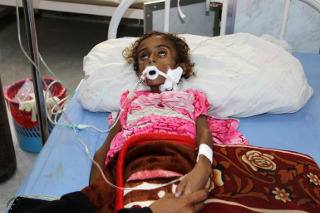 Despite the reopening of Wadea, however, and the allowing of limited ships into southern Aden port, UN officials say that the Saudi-led coalition is still blocking all of their aid deliveries into the country, continuing the siege.
The near-term concern is for the lack of medicine, as northern Yemen is essentially out of everything at this point, and doctors say several hundred patients will die within the next week simply for lack of medicine.
The long-term prospects are even worse, with northern Yemen having an estimated six weeks of food left, and UN officials warning that "millions" could be killed by starvation if the blockade continues past that point, causing one of the worst famines in generations.
The blockade has already impacted millions, with malnutrition now common across the country, particularly in the north, and upwards of a million people coming down with cholera in the worst outbreak in human history, which killed over 2,000 people alone.
Last 5 posts by Jason Ditz