Saudi warplanes circled the Yemeni capital of Sanaa throughout the day, carrying out multiple attacks against the defense ministry and the surrounding area, with a number of the strikes hitting a residential area next to the ministry building.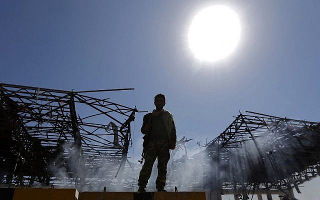 Several homes were damaged in the strikes and one was totally destroyed, leaving only a crater. Despite this, locals could confirm no deaths from the strikes, though a substantial number of wounded were being rescued from the ruins.
These are the latest in a long series of attacks on the Yemeni capital during the Saudi war, and while the defense ministry has been targeted occasionally in the past, this appears to be the most concerted effort against the building.
Officials at the Yemeni Defense Ministry claimed responsibility over the past weekend for a ballistic missile strike against the Saudi capital. It's unclear this is retaliation for that, however, as Saudi officials have tried to dismissed the Yemeni claims and blame Iran and Lebanon for the incident.
Last 5 posts by Jason Ditz