The Spanish government has announced that the parliament of Catalonia and its entire government have been "dismissed" today, hours after Catalonia declared independence from Spain in a 70-10 vote.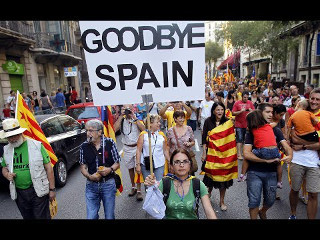 Obviously Spain believes they can do this, since they didn't recognize the declaration as legitimate. On the other hand, it's not clear that an independent Catalonia is going to feel like Spain can just dismiss their government. The standoff is continuing.
But Spanish officials appear to believe that the dissolution is a fait accompli, and Spanish prosecutors say they are looking into charging the Catalans with "rebellion," and are trying to figure out if those charges will just be centered on the government's cabinet, or all 70 MPs who voted "yes" to independence.
The charges could carry many years in prison, and could come as soon as Monday, according to Spanish officials. The expectation seems to be that they can end the secession movement by jailing the entire leadership, then having new regional elections on the assumption that the only party that'll still be in one piece is the anti-secession Socialists.