In comments on Wednesday, Catalan Vice President Oriol Junqueras said the current coalition government "has no choice" but to declare independence from Spain, and that they are committed to the building of a sovereign republic.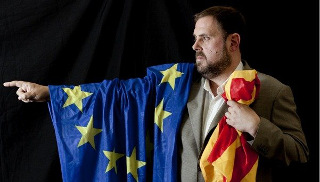 Junqueras appeared to downplay the chances of snap elections, insisting the ruling coalition already has a political mandate and the referendum proved the public wants independence. Junqueras is the head of the Republican Left Party, while President Carles Puigdemont is the head of the coalition as a whole.
With Spain threatening a takeover, the situation is coming to a head. Puigdemont has declined to testify at the Spanish Senate, apparently believing there's no point, and suggesting that the Catalan leadership is indeed just going to press for independence.
Catalan separatist leaders have promised a campaign of civil disobedience if Spain tries to impose a takeover, and while Spanish officials express confidence in their ability to take over the region by force, it will be difficult to rule a region of some seven million people if they don't want to be ruled.
Last 5 posts by Jason Ditz