Turkish President Recep Tayyip Erdogan says that his forces, which recently entered Syria's Idlib Province to facilitate a safe zone, have "largely completed" their mission.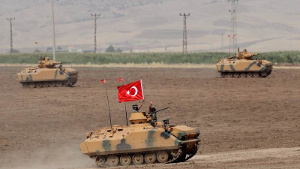 It's unclear exactly what that means in context, since the mission was supposed to include both separating al-Qaeda from the rest of the rebels  and monitoring an ongoing ceasefire under the Astana deal. The ceasefire monitoring is meant to lead to eventual peace talks, and doesn't seem to be the sort of thing that would be almost over.
Instead of trying to keep the ceasefire in place, however, Erdogan suggested that Turkey might quickly shift priority toward picking fights with the Kurdish YPG in the Afrin District, saying that Turkey could "suddenly" hit the region one night if they wanted.
While that's not in keeping with the de-escalation effort, at Turkey's behest the Kurds are not allowed to be part of the ceasefire anyhow, so attacking them wouldn't be a violation of the ceasefire from Turkey's perspective.
Last 5 posts by Jason Ditz