The head of US Central Command Gen. Joseph Votel told reporters today that he is increasingly "concerned" about Iran's behavior in his region, which to be clear is the region which includes Iran and the nations immediately surrounding Iran.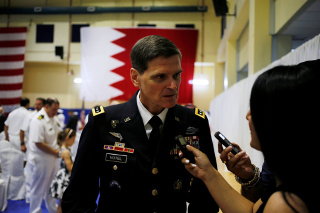 Votel accused Iran of being a "long-term destabilizing actor," though he offered no specifics about what problems e had with them, beyond being "prepared to do what we need to" against Iran.
The comments were made on the eve of President Trump laying out a new strategy for Iran, which is expected to be broad hostility, above and beyond decertifying the P5+1 nuclear deal. Trump has similarly complained about Iran in very vague terms.
Votel's position on Iran threatening America's "interests in the region" is particularly odd, however, since Iran and the US are both allies of the Iraqi government, and both fighting against ISIS in Syria. While their interests don't directly line up on all issues, Iran's "interests in the region" are based on Iran being specifically in the region, while in America's case, the interests center on the many Centcom bases and US wars therein, which hardly makes Iran seem like the one destabilizing things.
Last 5 posts by Jason Ditz