Following yesterday's Turkish military deployment into the Idlib Province, rebels have agreed to hand over the key Jab Salama border crossing to a Turkey-backed "interim government" made up of Syrian opposition figures.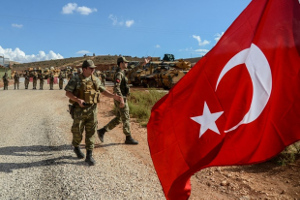 Turkey's deployment is part of a joint deal with Russia and Iran to try to support "de-escalation" around safe zones to limit fighting and allow for progress in peace talks. Since Turkey is allied to most of the factions in Idlib, they were chosen to go into that area to monitor the calm.
At the same time, Turkey isn't on positive terms will all factions within, most notably al-Qaeda's Nusra Front is hostile to them and anyone else engaged in the peace process. This means Turkish troops are at risk of being at the center of a fight.
But Nusra has been seen weakening in recent weeks too, sustaining major losses in failed offensives against the military and losing a number of villages to ISIS in Hama Province. Given how important controlling border crossings has been to getting arms shipments, the transfer of the Jab Salama crossing likely further cuts off Nusra.
Last 5 posts by Jason Ditz