Iraqi forces are claiming victory in the offensive against the town of Hawija, reclaiming the Sunni-dominated town from ISIS. Hawija is near the Kurdish city of Kirkuk, putting it along the contested frontier with Iraqi Kurdistan.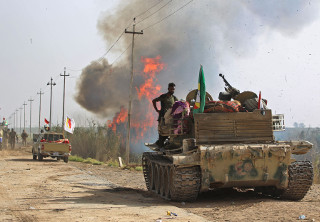 Hawija is important not just as one of the last ISIS-held towns in Iraq, but as one of the first Sunni towns to protest against the Iraqi central government, leading to the 2013 Hawija massacre, and eventually unrest that ISIS used as an opportunity to take over much of Sunni Iraq.
The reconquest of Hawija by the Shi'ite government, with Shi'ite militias participating in the offensive, is once again going to be presented as the effective "end" of ISIS in Iraq, though as a point of fact ISIS retains multiple positions in the nation's far west, along the Syria border.
The offensive against Hawija only took a couple of weeks, which is unusually quick for the Iraqi military to retake a town of that size. At the same time, fighting is still reported to the town's north and east, meaning the battle isn't exactly over.
Last 5 posts by Jason Ditz