Massive demonstrations were held across the region of Catalonia Tuesday, along with a major general strike both in support of Catalan independence, and in protest against the violent crackdown by Spanish police against Sunday's referendum.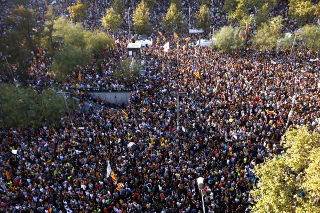 This has brought Catalonia to a virtual halt, with protesters blocking roads in Barcelona, and farmers putting their tractors on major highways across the region. Even subways and bus networks aren't operating.
On Sunday, Catalonia voted overwhelmingly to declare independence from Spain, with a substantial turnout in spite of large Spanish police operations leaving over 800 people wounded. Catalan officials are urging international mediation after the crackdown.
Spain's King Felipe condemned Catalonia's leaders as "irresponsible" in rare comments on the matter, saying he will ensure the "unity and permanence" of Spain, irrespective of Catalan ambitions for independence.
Last 5 posts by Jason Ditz