US Joint Chiefs of Staff Chairman Gen. Joe Dunford offered an unusually stern rebuke of the push to withdraw from the P5+1 deal with Iran. Testifying to the Senate Armed Services Committee, he noted Iran was complying with the terms of the deal.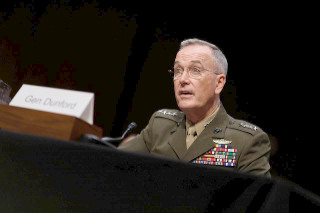 More importantly, Gen. Dunford warned that a US move to unilaterally withdraw from the deal would have huge ramifications internationally, raising global questions about America's treaty obligations, and reliability as a partner in future negotiations.
President Trump is reportedly eager to withdraw from the Iran deal, and Secretary of State Rex Tillerson has urged the international community to unconditionally accept changes to the treaty or risk losing US participation.
None of the other nations appear interested in renegotiating the deal, and many analysts believe the deal would remain intact, with or without American participation. Gen. Dunford seems to be recognizing that possibility, and that if it ends up happening, the US might lose its sway on future agreements.
Last 5 posts by Jason Ditz