Spanish Attorney General Jose Manual Maza warned today that the government retains the option of arresting Catalonia's President Carles Puigdemont for "disobedience" and misuse of public funds if the Catalan referendum takes place.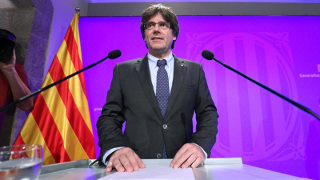 Maza said officials have decided now isn't the right time for such an arrest, and that they're trying "not to be disproportionate." Spain has sent many thousands of national police to Catalonia for raids and general crackdowns against the planned October 1 referendum.
Police have arrested at least 14 Catalan officials, and seized some 10 million ballot papers. Prosecutors have also charged the leaders of two pro-secession movements with "sedition." Piugdemont, however, insists the vote will take place and that plans are in place  despite the police measures.
With many thousands already protesting against the crackdown, Spain likely fears that such an arrest would add to the general sense of outrage that is fueling pro-secession sentiment. Still, Spanish officials have insisted they retain the option of taking any measures necessary to stop secession.