In comments that may provide some insight into the Trump Administration position on Iran, Secretary of State Rex Tillerson conceded that "no one" disagreed with Iran being in compliance with the P5+1 nuclear deal. He insisted, however, that this compliance was only "technically" compliance.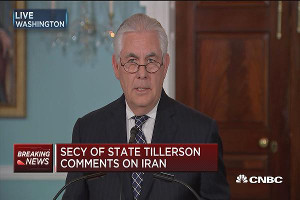 This led to talk of Iran violating the "spirit" of the deal, even though they are complying with all the actual written terms of the deal. Tillerson suggested that the expectation was that the deal would "remove" Iran as a threat in the eyes of the US.
Which of course is something that Iran has literally no control over. US policy is to be hostile toward Iran, and the fact that this didn't evaporate overnight is neither surprising, nor something that anyone could've thought might happen as the result of the P5+1 deal, which covered only Iran's civilian nuclear program.
Tillerson's comments reveal that the administration's position is that Iran simply couldn't comply with the "spirit" of this deal, but does reveal why officials keep mentioning the Syrian War and other things totally unmentioned in the P5+1 pact as "violations."