While there's been little detail on what has been seized, the ongoing Spanish police raids across Catalonia, and detentions of officials, have delivered a "major blow" to the planned October 1 referendum. Officials insist they still intend to move on with the vote either way.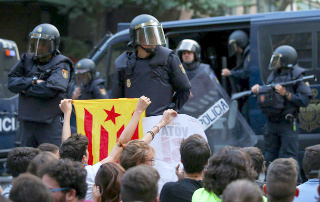 Spain has been carrying out an increasingly aggressive police campaign, and has threatened "extraordinary" actions to prevent the referendum on Catalonia's secession. The European Union, fearing secession in other member nations, is largely supportive of Spain's crackdown.
Catalonia's regional leader Carles Puigdemont says that there are contingency plans in place to hold the referendum irrespective of what the Spanish government does to try to do that. Spain's Constitutional Court has forbidden the vote, saying Spain is indivisible.
Historically, Catalonia's voters have been split pretty evenly on the question of secession, though the aggressiveness of the crackdown this time seems to have electrified pro-secession demonstrations and may be driving anti-secession people out of the Spanish camp.