The long-standing fear of the post-ISIS War situation would be what happens when the overseas fighters return home with all sorts of new combat skills and international contacts. US officials have said their intention is no one should survive to return home.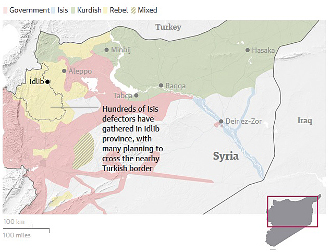 That was never a realistic goal, and we're beginning to see ISIS defectors by the hundreds leaving combat zones, with large numbers flocking to the Idlib Province. Dozens have already crossed the border into Turkey, meaning they're effectively out of the warzone.
Idlib is controlled by multiple Islamist rebel factions,and many have close ties with Turkey, which has left the border at least somewhat open to rebel traffic going back and forth. This appears to be providing the ISIS defectors a way out, ironically through the same country many entered the war from in the first place.
It's not clear who these people who crossed are, or what countries they originated in. Now that they're out of Syria, however, it's not likely to be that difficult for them to navigate their way back home, and that's going to leave a lot of questions about what they'll do in the future.
Last 5 posts by Jason Ditz