Having both agreed to sign off on a watered-down version of the North Korea sanctions bill at the UN Security Council, Russia and China have issued a joint statement on the matter warning the US against pushing any further measures.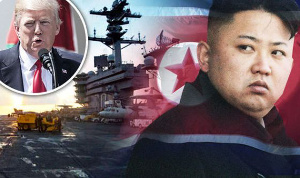 The two nations set out what they called "four nos." This including ruling out efforts to impose regime change in North Korea, or collapse the regime there, or pushing "accelerated reunification," or any military deployments into North Korean territory.
In addition to reiterating their opposition to the US attacking North Korea, these comments appear intended to push back against President Trump's call to do much more against North Korea after the UN resolution, which he complained was "nothing" compared to what is to come.
China in particular has been pushing for an increase in diplomacy with North Korea and the US directly engaging to try to resolve their disputes. Having given some support to US sanctions in recent months, Chinese officials feel that the US owes them at least a shot at diplomacy, though the Trump Administration appears to be resisting this effort.