While refusing to confirm or deny reports of Israel's overnight attack on a Syrian military base, IDF military intelligence chief Maj. Gen. Harzi Halevi bragged of the Israeli military's capabilities, saying they would continue to attack enemies "near and far."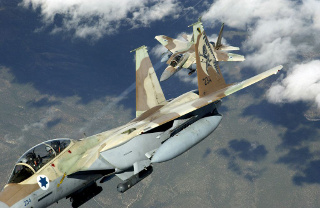 Maj. Gen. Halevi made it very clear that when he says "enemies," he mans Iran, playing up the "threat" posed by Iranian forces in Syria, as well as Iranian forces in Iran. He played up the "precise intelligence" which Israel has for targeting them everywhere in the region.
These comments were echoed by Defense Minister Avigdor Lieberman, who also dodged the question about attacking Syria, but said that Israel was "ready and determined to defend ourselves," also playing up the idea that this would be against Iran.
Israel's attack comes amid repeated complaints by them that they are unhappy with the ceasefire efforts made by the US and Russia. Their objection to the ceasefire is largely that it doesn't involve kicking Iran out of the country and imposing regime change by force, and some are speculating this may have informed the decision to attack.
Last 5 posts by Jason Ditz