The US strategy for North Korea remains "all options are on the table," according to White House press secretary Sarah Huckabee-Sanders, who today noted that the top priority for US efforts are the denuclearization of the Korean Peninsula.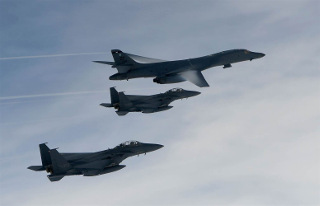 How the US intends to get to denuclearization is another matter, however. Huckabee-Sanders says that talks are "not the current focus," which is putting it mildly since President Trump has presented any suggestion of direct diplomacy as "appeasement."
In recent months the US engagement has been increasing sanctions against North Korea and a growing military buildup along their frontier. On top of that President Trump has refused to rule out attacking North Korea, saying only "we'll see."
On top of that, South Korea's defense minister has proposed deploying US tactical nuclear weapons to South Korea, and US officials aren't ruling that out. This would be the direct opposite of trying to denuclearize the peninsula, but is very much in keeping with talk of attacking North Korea first.
Last 5 posts by Jason Ditz