In the course of trying to capture the Old City district of the Syrian city of Raqqa, the Kurdish YPG has reportedly captured the district's ancient mosque. US officials described the capture of the mosque as a "milestone."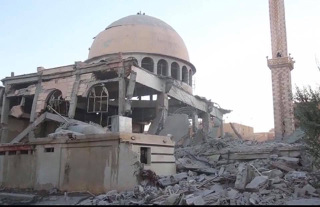 US spokesman Col. Ryan Dillon said that the Kurds "have made consistent incremental gains in the urban terrain of the city, fighting block by block." Kurdish officials claim to control some 65% of the city now, though the Pentagon has declined to confirm that figure.
The Great Mosque was built in 772, with substantial renovations in 1165. It is the oldest mosque in Raqqa, and losing control over it may be symbolic for ISIS losing ground in the city, nominally their capital. At the same time, ISIS appears to have a substantial presence still in Raqqa, and looks to be hard to unseat from other districts.
Even if Raqqa is ultimately lost, ISIS retains almost the whole Deir Ezzor Province, with Syrian military forces trying to push into that area but facing still resistance. That's a lot of territory that will yet be contested, suggesting the Syrian war is far from over.
Last 5 posts by Jason Ditz