Russia has formally protested to the US Embassy today over both the seizure of several Russian diplomatic sites within the United States, and the planned search of one of the sites, the Trade Mission in Washington D.C. Russian officials said they view the moves as "openly hostile acts."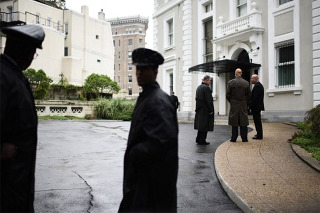 The US ordered the closures last week, covering two annexes (including the Trade Mission) and the Russian Consulate in San Francisco. US officials presented this as an attempt to get the US and Russia to have even numbers of consulates in one another's countries.
Kremlin spokesman Dmitry Peskov, however, complaining that there was no legal basis for the moves, and that the US was "trampling on international law" in expelling Russia from its buildings then sending in armed police and intelligence officials. The US claimed to be "searching" the buildings to make sure they were actually closed as ordered.
Tit-for-tat moves began in December, with the US expelling a number of Russian diplomats and seizing a pair of vacation compounds. Russian officials are threatening a harsh response to the latest US move, which itself is likely to lead to more such moves from the US.
Last 5 posts by Jason Ditz