Routed over the past couple of weeks along both sides of the Lebanon-Syria border, ISIS forces in the area have reached a ceasefire encompassing the Lebanese Army, Syrian Army, and Hezbollah, and negotiated a deal to withdraw from the area.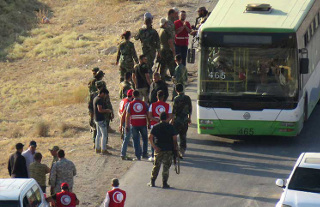 This has been a popular way to end fighting across southern Syria in recent months, with the Syrian government favoring deals to mass evacuate rebels instead of dealing with violent last-stands. This is the first time, however, that such a deal has been reached with ISIS.
Under the deal, ISIS fighters and their families will be evacuated from the border area into Deir Ezzor Province, which is almost wholly controlled by ISIS. Some 17 buses were sent to the border area to carry the evacuees.
It is something of a surprise that such a deal was made at all, both because such deals have never been had with ISIS before, and because the ISIS forces on the border didn't appear to have a defensible position in which to mount a last stand, which led to speculation they'd simply be wiped out in short order.