Overnight, the US test-fired an ICBM from the North Vandenberg Air Force Base across the Pacific Ocean. It was the fourth such test this year, landing some 6,800 km away in the Kwajalein Atoll.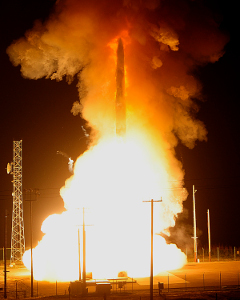 The Air Force issued a statement, insisting that the test was not specifically about ongoing tensions with North Korea, but that it "demonstrates that the United States' nuclear enterprise is secure, effective, and ready," for future conflicts.
In specifying that the test was not about North Korea, the Air Force effectively confirmed that this was very much what it was about, coming just after a North Korean ICBM test of questionable effectiveness. the US "tested" a missile they've had for generations.
The US has been making a long series of "shows of force" related to North Korea in recent months, and Sen. Lindsey Graham (R – SC) said President Trump had told him that the US believes it has a good military option to totally destroy North Korea.
Last 5 posts by Jason Ditz