Two US soldiers were killed today just outside of the major Afghan city of Kandahar, when a suicide bomber attacked the NATO convoy they were traveling in. NATO confirmed "casualties," but did not specify if there were any wounded on top of the two slain.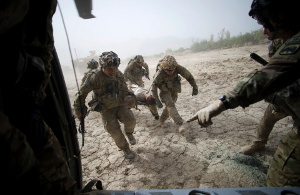 This comes just a day after another incident in which a pair of US soldiers were wounded in a helicopter crash in Achin District, in neighboring Helmand, when the helicopter came under fire from the Taliban. The Taliban claimed they'd shot it down, and that everyone on board was killed.
There has been no claim of responsibility for the Kandahar attack yet, but the Taliban are a very safe bet, as the city of Kandahar is hugely important to them. The Taliban is very active in Kandahar and the surrounding provinces, and often is able to bring in support from the nearby Pakistan tribal areas.
The two slain today makes nine US soldiers killed in Afghanistan so far this year, and while that's not a lot, increased interest in putting US fighters back on the front lines has definitely made them more available targets in recent months, and this trend of casualties could be rising after dropping off in the past couple of years.
Last 5 posts by Jason Ditz