Last week, Russia retaliated against the US for expulsions and properties seized back in December, announcing that they are capping the number of US diplomats at the Moscow embassy at 455, and also announcing they will seize two other US properties in Moscow at the start of September.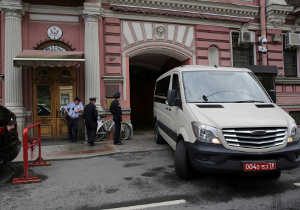 After a weekend of being angry about it, the US Embassy has made its first move toward the drawdown, sending workers to the dacha along the Moscow River to dismantle barbecues and other equipment which have been used in the recreational area.
The dacha is the same site embassy officials claimed to be locked out of yesterday, though Russian officials clarified that sending workers to the site, in a conservation area, required a permit that they simply hadn't sought. That apparently was resolved by today, and vans were removing equipment and furniture throughout the day.
Russian President Vladimir Putin says that the US will have to remove about 755 diplomats from Moscow to comply with the new caps. Russian officials had previously complained there are "too many" US spies operating in Moscow with diplomatic credentials, and this appears to be trying to resolve that concern, though interestingly without any specifics on who is being expelled.
That lack of specificity about who has to go may be a deliberate tactic, as it doesn't require Russia to reveal any intelligence it already has on US spies, but dos make anyone who isn't part of the wholesale expulsion automatically more suspect.
Last 5 posts by Jason Ditz