Having given many months of advanced warning before their invasion in October, Iraq and the US gave ISIS ample time to set up defenses, and that included a terrifying array of booby-traps aimed at slowing offensives.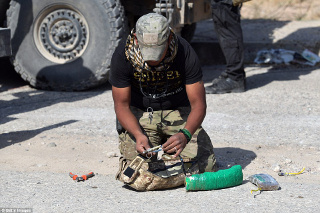 And while ISIS has virtually lost the city, it involved a solid nine months of fighting, with snipers and traps slowing the offensive to a virtual halt several times. Unfortunately, despite all that fighting and all the damage done to the city, it's nowhere near exhausted the supply of traps.
Potentially anywhere in the city, there could be, and often are, explosive traps left in random houses. Flip the wrong light switch, or open the wrong door, and a huge explosion results. That's going to be a huge problem with the clean-up of the city, and reconstruction.
That Mosul is half destroyed makes this an even bigger problem, as it's not always clear where a trap destroyed the house, or it got leveled in an airstrike, and there's still an active trap waiting to be stumbled on in the rubble.
Much like the struggle with land mines for civilians lasting long past the war they were deployed in, the unprecedented number of advanced, powerful traps in Mosul is likely to be something locals will have to deal with for a long time to come.
Last 5 posts by Jason Ditz