Launched late last week, the Hezbollah-led offensive along the Syria-Lebanon border is almost over, according to Hezbollah's media outlet, which says that they are close to winning, and that remaining insurgents should give up the fight.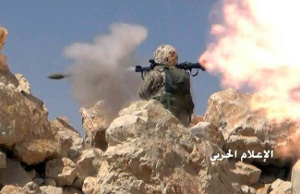 Most of the fighting centers on the Lebanese border town of Arsal, which has repeatedly been targeted by Islamist forces from neighboring Syria, and has been dominated recently by al-Qaeda's Nusra Front, the focus of the current operation.
Indications are that after the Arsal operation is over, Hezbollah will look to carry out a second military operation nearby in the Bekka Valley, targeting some territory that still has an ISIS presence along the border.
On and off fighting over the past couple of years has aimed to push the Islamist factions out of the border region between Lebanon and Syria, and has largely been successful. This has been a top priority for Lebanon-based Hezbollah, and also for the Syrian government, which wants to secure the regions near the capital city.
Last 5 posts by Jason Ditz