On Monday, South Korea's Defense Ministry publicly offered talks with neighboring North Korea, to be held in the "truce village" in the demilitarized zone. The plan was for the talks to be held today, but they didn't happen, as North Korea never responded.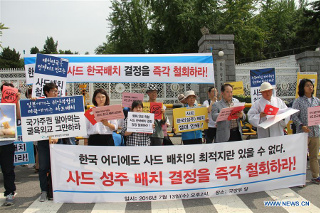 The 64th anniversary of the Korean War truce is next week, and South Korea was hoping the two militaries could get together and discuss a way to end "hostile acts" back and forth, which have been fueling tensions.
With no word out of North Korea, official or otherwise, the exact nature of the refusal is uncertain. It may well have been that the Monday to Friday turnaround time was simply too short for North Korea to get together whether or not they wanted to take part.
Still, the lack of response will be a blow to South Korean President Moon Jae-in, who has been very public about wanting more diplomacy with North Korea, and a return to the "sunshine policy" of the past to try to reduce the chances of a war breaking out on the Korean Peninsula.
Last 5 posts by Jason Ditz