NATO and Russian Ambassadors will be meeting later this week in Brussels for a joint council, a meeting that aims to reduce tensions between the two forces. Right now, the tension is overwhelmingly built around successful mid-air interceptions by warplanes, with both sides faulting the other for unsafe behavior.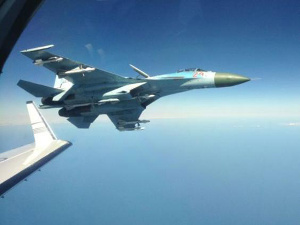 NATO's complaints most center around NATO military planes getting intercepted in international airspace near the Russian border. Russia's primary complaint is the NATO interception of a civilian airliner containing the Defense Minister, leading to a mid-air confrontation with the airliner's escort.
Ambassadors on both side see the main solution to this recurring problem as better communication, with both sides being more willing to identify themselves when the other side's air traffic control requests them to do so, and just less intercepts in general.
In practice, both sides' pilots tend to be eager to show bravado during intercepts by getting unduly close, and the other side will always complain about that being unsafe, even if it's pretty common and never seems to result in any accidents.
The real problem, rather seems to be the general level of hostility that leaves both sides always believing that the next approaching warplane could be the start of World War 3, and so long as that's true, the interceptions will continue.