Over the weekend, President Trump continued to talk up the success of his two-hour talk with Russian President Vladimir Putin on Friday, insisting it was "tremendous" and that it's time for the US to work "constructively" with the Russians.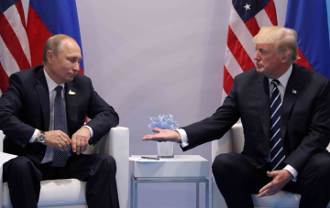 Trump's comments suggested that cooperation would come in both Syria, and in cyber-warfare. The suggestion of working together was immediately condemned by a number of hawks, with Sen. Lindsey Graham saying it was "not the dumbest idea I've ever heard, but pretty close."
Trump's own administration also appears to be downplaying the chances of working together, with Secretary of State Rex Tillerson promising to see US sanctions on Russia remain intact, and White House officials insisting that the US didn't believe Putin's denial of hacking the election.
Russian officials are also praising the talks as having gone well, and while they appear a lot less divided about what took place, they also appear a lot more realistic about what will come from the talks, apparently cognizant that rapprochement is virtually politically impossible for Trump to pull off, even assuming he still wants to.