For at least the third time in less than a month, the Iraqi government has declared "victory" in the battle for Mosul, which has raged since October. As with the previous two occasions, this declaration was made even as fighting raged just blocks away.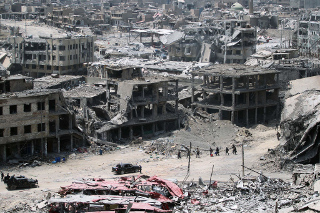 This is a "victory" over ISIS, or a "liberation" of the city, though in practice it's more accurate to call it a virtually total destruction of the major city, with locals in the ruins morosely watching the repeated victory celebrations in the rubble of the Old City, and noting that no effort has been made to even attempt reconstruction.
Even Iraqi state media is no longer pretending that the consecutive declarations were anything decisive, but did insist that the fighting is going really well and predicting "final victory" would be declared soon, perhaps even in a matter of hours. The prediction of ISIS falling in a matter of hours, too, has been repeated for weeks on end.
Top Iraqi commanders are less and less talking about the ongoing fighting, and more about killing those routed ISIS forces trying to flee. That's been a recurring strategy for Iraq, but giving defeated forces no place to flee to is also convincing many ISIS fighters they have to fight to the death, which is dragging out the fighting in the Old City.
Last 5 posts by Jason Ditz