Iraq continues to celebrate it's "big victory in Mosul," with Prime Minister Hayder Abadi holding a congratulatory press conference in Baghdad playing up the "liberation of Mosul" and the "end of ISIS," even as fighting against ISIS, in Mosul, continues to rage.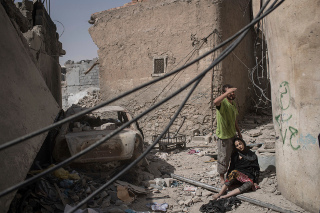 The victory has been hyped for over a week, despite the conspicuous lack of a victory, and Iraqi forces today are even slowing their military offensive within Mosul's Old City, an offensive which has already been limping along at a snail's pace.
The military is citing the presence of large numbers of civilians in the last ISIS areas for slowing the advance, but insists they are continuing to make "good" progress, albeit at a pretty slow pace. They are also trying to provide corridors for civilians to get out of the area.
Which isn't easy. The civilians were warned at the start of the Mosul invasion that to flee would be to expose themselves to US strikes, and ISIS has also been shooting those who try to get out. Exhausted after living through many months of open warfare, the locals are mostly just hoping for the situation to end.
Last 5 posts by Jason Ditz