Qatari Foreign Minister Mohammed bin Abdulrahman al-Thani has formally delivered the hand-written letter of response to Saudi Arabia's list of 13 demands. The response was sent by way of Kuwait, which is trying to mediate the dispute, to Saudi Arabia, the United Arab Emirates, Bahrain, and Egypt.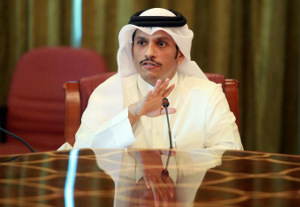 Though the exact text of the response has not been made public, it's safe to say it's a broad rejection of both the allegations contained within the demands, and the specific demands themselves, with Qatari officials saying they believe it was intended to be rejected all alone.
The response to the response is the big question now, as the four blockading countries are expected to get together to make some sort of new formal statement related to the ongoing defiance of the Qatari emirate. If history is any judge, this will be more accusations and even more demands.
Saudi Arabia initially gave Qatar 10 days to capitulate, and extended this 48 further hours, through Tuesday night. It is likely that this deadline will inform the rate of the response to the response, as if the Saudis want to give Qatar one last chance to give in, they may quickly respond while the deadline is still active.