In the deadliest attack to hit the Syrian capital city of Damascus in months, a group of car bombers attempted to infiltrate the city. Two were caught and detonated themselves outside the city, but a third managed to get all the way into Tahrir Square, blowing himself up there.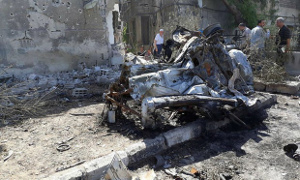 The Tahrir Square bombing killed at least 21 people and wounded 12 others. Identities of the victims are still not totally clear, but the Syrian Observatory for Human Rights said at least seven members of the security forces were among the slain.
Where the other drivers were going isn't totally clear, but they were intercepted at a roundabout not far from the airport. There has been no claim of responsibility for any of the attacks, though war-torn Syria has no shortage of Islamist factions liable to carry out such a strike.
The last large suicide bombing in Damascus, back in March, was carried out by Tahrir al-Sham, an Islamist coalition that includes al-Qaeda's Nusra Front. There are multiple other Islamist factions, including ISIS, who are also potentially behind this latest attack.
Last 5 posts by Jason Ditz