The Israeli government today broke ground on their first new official settlement in the occupied West Bank in 20 years. The settlement, Amichai, will house the residents of the illegal Amona outpost, which the Israeli Supreme Court ordered demolished for being built illegally on privately owned Palestinian land.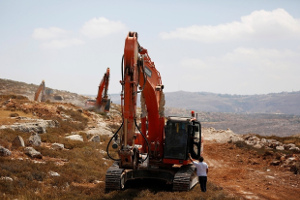 The Amichai settlement is every bit as illegal under international law as Amona, but the fact that it is being established formally by the government makes it different under Israeli law. Moreover, the far-right government has changed the laws surrounding seizing Palestinian land for the sake of settlements to prevent another Amona.
Construction begins just a day before a delegation of Trump Administration officials are headed to Israel and the West Bank to talk with officials in an attempt to kickstart the peace process. This is going to be greatly complicated by the new settlement, of course.
Amichai is just part of the problem, of course, with Israel's continued expansion of settlements across the West Bank leaving less and less land for the Palestinian population to ever end up with its own state in. Even then, Israel's far-right government has members who are loudly opposed to peace talks as a general notion, and every move by the US to get the talks going will be resisted every step of the way.
Last 5 posts by Jason Ditz