Heavy fighting continues in the Deir Ezzor Province, with ISIS trying to push into the last government-held pockets in the capital last week, and Syrian Army forces launching shelling and airstrikes against ISIS targets further south, around the ancient city of Palmyra.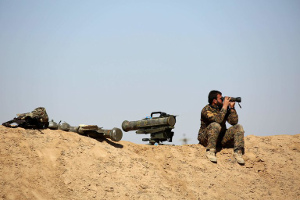 The Syrian Army claims that over the last 24 hours they'd killed at least 70 ISIS fighters, destroying at least one tank and several pieces of field artillery. They didn't specify exactly where this happened, but all indications are this was a continuation of that southern push.
The southern push is part of a concerted effort by Syrian forces and their allies to open a corridor through which Iraqi Shi'ite militias can link up with them, as they advance closer to the Iraq-Syria border. This requires a push through ISIS territory, and also into the territory of US-backed rebels around Tanf.
The US has been complaining loudly about the threat this offensive poses to their allies, though naturally they cannot complain too loudly about Syrian forces targeting ISIS targets. In the long run, however, it's clear that the push against ISIS is once again lining up the Syrian government against US priorities.