At least three suicide bombers attacked the funeral of an Afghan protester who had been killed the previous day in demonstrations against the government's inability to provide security in the capital city of Kabul. The bombings hit crowds of mourners, killing at least 19, and wounding scores of others.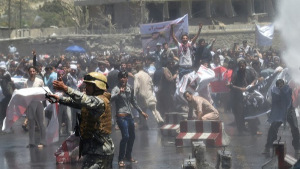 The protester in question was the son of Sen. Mohammad Alam Izadyar, and died of injuries sustained as Afghan security forces cracked down on the protesters in the streets. Indications are that members of the Jamiat-e Islami party with which the senator is allied were the main targets of the attack, though the top official at the funeral, Afghan CEO Abdullah Abdullah, was unharmed.
The deaths of protesters, and the subsequent attack on the funeral, is adding to tensions between Abdullah's ethnic Tajik allies and President Ghani, as Ghani issued another statement today demanding "unity" in the wake of the incidents.
The Taliban was quick to issue a statement denying any involvement in the Saturday bombings, saying they believe that the incident was a result of political infighting and not part of the insurgency. That seems to be the sense of a lot of the demonstrators too, and it's likely protesters will be out in force again after this incident, and irrespective of crackdowns on them.