Amid growing pressure from the Red Cross to do something about the health risks posed to Palestinian detainees who have been hunger striking for 40 days, demanding better conditions in Israeli prisons, the strikes were ended this weekend, with reports from the strikers that Israel gave in to 80% of their demands.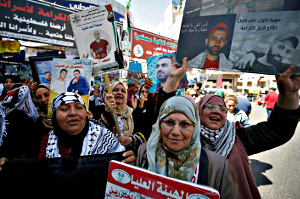 The main demands of the hunger strikers were improved living conditions for women and children held n detention, increased frequency of family visits, telephone access, and a broadening of the definition of "family" to include extended family members.
Early reports suggested that the only concession made was increasing visits from one per month to two, and Israeli officials at the time presented that as a concession negotiated between the Palestinian Authority and Red Cross. Indeed, Israeli officials were eager to deny that any negotiations had ever taken place with the hunger strikers, despite a lot of reports to the contrary, and Israel's Public Security Minister insisted the strike simply "failed" and ended because of that.
Israel had long resisted the idea of improved conditions for detainees, insisting they already meet international law bare minimums, and are not obliged to do any better. They also remain desperate to appear as if they did not negotiate with Marwan Barghouti, the presumptive next leader of Fatah when aging leader Mahmoud Abbas leaves power. In addition to being in prison for multiple life sentences in Israel, Barghouti is a popular figure, and an advocate of the peace process, and Israel clearly prefers that the Palestinian leadership remain people they've already put years of work into portraying as unwilling to negotiate.
Last 5 posts by Jason Ditz