40 days in, the hunger strike among Palestinian prisoners and detainees held by Israel has come to an end, with key Palestinian leader Marwan Barghouti, himself among the strikers, agreeing to a compromise with Israel regarding the strikers' demands for better treatment.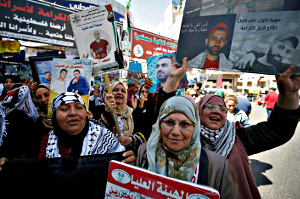 Israel had initially resisted any idea of improving prison conditions, arguing that they already met the bare minimum requirements as set out by international law. The Red Cross was warning the hunger strikes would soon face irreversible health problems, however, and Israel appeared willing to finally make a bit of a deal.
The main complaints by the detainees were that they wanted to be allowed family visits more often, and access to supervised phone calls with relatives. Israel has agreed that the detainees will be allowed two visits a month, instead of the standard one, but appears not to have budged on phone calls.
Israeli officials are trying to present this concession as being done not because of the hunger strike, but as part of negotiations with the Palestinian Authority. This is likely a reflection of their concern that Barghouti's position in Fatah is rising, and with him serving multiple life sentences in Israeli prison he'd be a really inconvenient successor for Abbas.