The Israeli far-right coalition government is a potential threat to President Trump's peace efforts, as several members of the relatively small coalition are openly opposed to any peace talks at all, let alone a deal leading to a Palestinian state.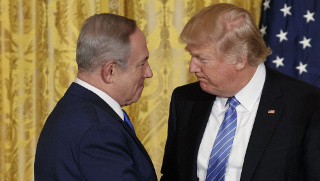 That's mostly Prime Minister Benjamin Netanyahu's problem, and his answer right now is contact with Zionist Union leader Isaac Herzog, one of the top opposition leaders, hoping to make a deal to expand his coalition, meaning the opponents would no longer be able to collapse the government over the peace process.
Netanyahu has tried unsuccessfully to make such overtures to Herzog before, but has been unsuccessful, mostly because the Zionist Union isn't comfortable trying to coexist with the far-right coalition members. The prospect of doing it for the peace process however, might make it more politically palatable.
Polls show Israelis  backing a two-state solution 47% to 39%, Officials from the coalition, including the Jewish Home party, generally oppose anything that would give the Palestinians an independent state, or remove the occupied territories in any way from Israeli control.