Following an attack on a busload of Christians in southern Egypt this morning, the Egyptian military has carried out a series of airstrikes against Islamist camps in Eastern Libya's city of Derna, claiming that the gunmen involved in the bus attack had been trained there.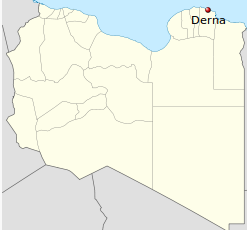 Egypt junta leader Abdel-Fattah El-Sisi insisted that Egypt would never hesitate to attack terrorists inside or outside the country, and made vague comments about states that sponsor terrorism. The camps around Derna are said to belong to Majils al-Shura, a Salafist Islamist group that is active in northeast Libya.
The Air Force of Eastern Libya's government, one of three active "national" governments in Libya, claimed to have participated in the strikes. Their forces have been heavily backed by Egypt in the past, and Egypt has been keen to support their military leader, Gen. Khalifa Hifter, who has attempted his own unsuccessful coups in Libya a couple of times in recent years.
The Majils al-Shura have been active in Derna, as well as in Benghazi, but have never previously been reported to have acted outside of Eastern Libya in the past, let alone all the way in Egypt. Derna was also, notably, where Libyan ISIS was founded, though the group was ultimately expelled by other Islamist factions.