At least 52 people were killed and over 120 others wounded when heavy fighting erupted iin the Libyan capital city of Tripoli, with fighting centering around forces loyal to the two Tripoli-based would-be national governments in the country.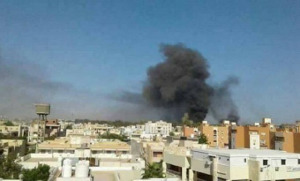 Details on how much territory is changing hands within the city is unclear, but locals reported hearing a lot of loud explosions and heavy artillery, and one of the factions claimed to have seized a prison owned by another of the factions.
The US-backed Libyan Unity Government and the Tripoli parliament were the two factions involved  in today's fighting. They, along with the Tobruk-based parliament, all claim to be the rightful government of Libya, though none controls very much territory in practice.
Officials from the Unity Government claim the parliament's forces started the fighting, though there has been no way of confirming that, and unity forces are definitely the ones who attacked and captured the prison, which holds a number of former Gadhafi-era officials, including at least one of his sons.